And now for something a little different – pulp polyps
Posted: December 20, 2011
Last Modified: December 21, 2020
Usually, we aim to write about things that are helpful to the overall understanding of dentistry, so the topics will cover such broad themes such as proper home care of your mouth (flossing, diet), biological issues (jaw joint issues, fluoride), or aspects of clinical dentistry (rubber dam, early detection of problems, evidence-based dentistry).
In this post, there is little of broad educational value; just a bit of curiosity – the pulp polyp! (Also known as a chronic hyperplastic pulpitis).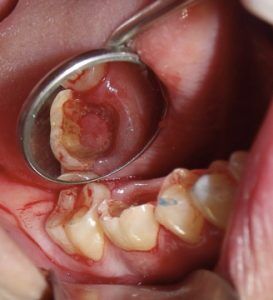 We found this little beauty growing out of a heavily-decayed lower right first molar. Not something we see all that much of, so we thought we'd show it off. The patient was surprisingly not in much pain with this tooth but was aware that it had been broken for some time. Pulp polyps are reactive growths of tissue coming out of the centre of a tooth.
When a tooth is heavily decayed, the pulp tissue (which contains the nerve of the tooth, but other tissue types as well) typically just dies and becomes a necrotic mush. In rare instances, the tissues don't die and instead continue to grow in response to the irritation posed by the decay. This results in a nice little polyp growing out of the tooth!
Obviously, the irritation/inflammation did not compromise the blood supply that feeds the tissues, so they were allowed to continue growing. For those who love to see x-rays, here's the bitewing. We didn't take a periapical view because we also had a decent quality panoramic image (not shown here).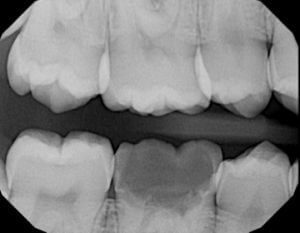 That's all for today! Just a chance for us to say "pulp polyp" and giggle a bit inside. If you're feeling polyp-y or would like to ask some questions specific to your own oral health, please contact us! We'd love to be your dental office in Barrie.