Don't Wait 'til it Hurts: The Value of Early Detection in Dentistry
Posted: October 22, 2011
Last Modified: June 6, 2022
We've all done it, or known somebody who has done it.  Waited for a problem to get worse and worse, or become painful, before doing something about it.
Whether it's a hole in a tooth, loosening of teeth, or maybe even noises in the jaw joints, it's important to get things addressed before they hurt. By the time things begin to hurt, not only has the problem gotten much worse, the treatment is likely to be more invasive, riskier, have less longevity, and actually cost more.
Let's take the example of a simple cavity.  A small cavity on a tooth can be quickly and cheaply filled.  The result would be expected to last a good long time.  If the decay is allowed to progress, the filling gets larger and larger and thereby reduces the amount of original tooth remaining.  Wait even longer, and this tooth will be looking at a root canal situation, which will often be followed by a crown.  When there is no longer enough tooth to make things worthwhile, extraction of the tooth will be the only option.  Even if cost were no object, an implant to replace a missing tooth is never going to be as good as the original tooth.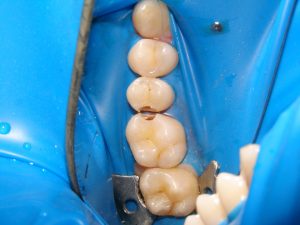 Our recommendations have an end goal of maximizing the lifespan of your teeth.  We are lucky to be practicing dentistry in Barrie – we have the ability to address all of your dental needs, whether that be in the office, or in close proximity to a network of dental specialists.  By being able to inform you of what problems lie ahead, you can take steps to prevent them.
Please contact us for a personalized examination and assessment of your risk for different diseases, as well as opinions on how we can improve your smile!   We want to be your dental office in Barrie.