What are Restorative Dental Services?
These services include much more than just fillings! We can provide restorative dental services for teeth in order to bring them back to their original function and appearance. Whether a tooth has been compromised by decay, an old filling that is breaking down, or perhaps just has an abnormal shape or colour, we have plenty of restoration options that may be suitable.
Case 1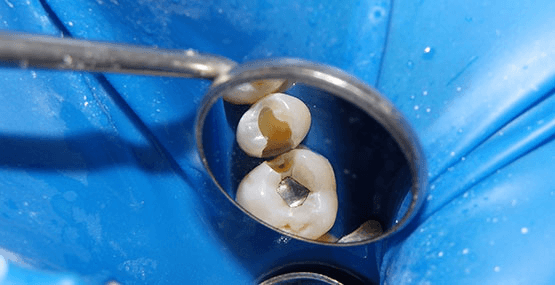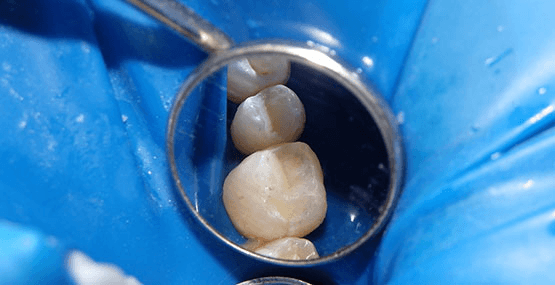 This case shows decay between the teeth, which usually only shows up on X-rays. The first photo is an intraoperative photo with one of the cavities cleaned out and some of the decay on the other tooth left in, to demonstrate how things looked when we opened up the tooth. After the decay was completely removed, we placed direct composite resin (white) fillings in both to restore the original anatomy. (H3PO4(aq) etch, Kerr Optibond FL primer and adhesive, 3M Filtek Flow Supreme A2, Dentsply Esthet-X A2 for body).
Case 2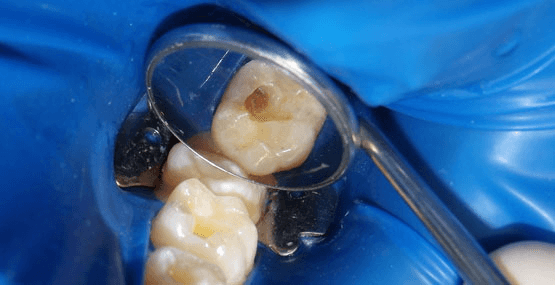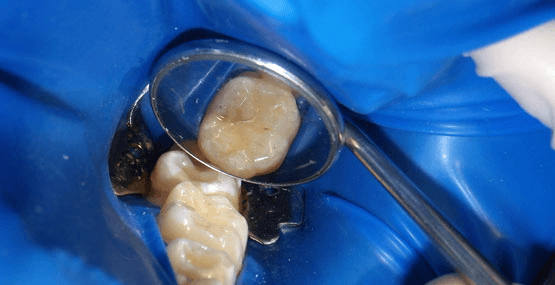 This lower first molar looked reasonably normal from the outside, but closer inspection with a surgical operating microscope revealed pinpoint decay that had expanded greatly below the surface of the tooth. The first photo shows the extent of decay once we opened up the surface of the tooth, and the second photo shows the completed filling. Thank goodness for magnification, or else this decay could have gotten much more severe before being detected! (Phosphoric acid etch, Optibond FL adhesive, 3M Filtek Flow Supreme A2 at base, Dentsply Esthet-X A2 for body.)
Crowns and Onlays
Crowns or onlays are required when so much original tooth is missing that a filling can't be done properly.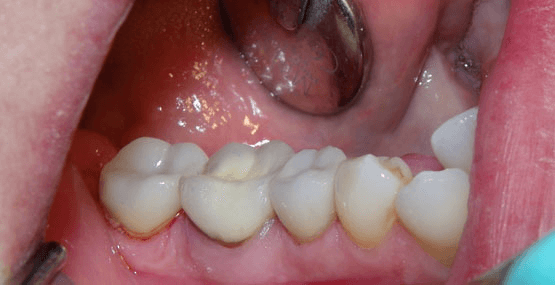 This is one of the more common scenarios where crowns are done – back teeth with wide/large fillings. Although fillings are great materials, they only last if they are not excessively large. The wider the filling, the greater the risk of tooth fracture. In this case, the last and third-last teeth (black arrows) both had very wide fillings (beyond half of the intercuspal width of the teeth), so the patient accepted our recommendation for crowns.
Both were done together in a two-appointment process: the first appointment to prepare the teeth, and the second to bond them into place. Clearly, this was not done for aesthetics (back teeth that are not really visible), but the outcome looks great nevertheless! (Crowns on 47 and 45, digital impression using 3Shape Trios, Emax crowns adhesively bonded due to short clinical crowns using air abrasion (PrepStart), acid etch (Bisco Uni-etch 32% H3PO4 with BAC), Calibra adhesive resin cement following the recommended protocol. Lab work courtesy of Image Dental Laboratory, Barrie.
Veneers
Veneers can be placed to correct a number of problems, from colour discrepancies, chipping, malformed teeth, to minor alignment problems. Be careful here, veneers are not a panacea as they may be portrayed elsewhere. Like anything else, there is a proper time and place for veneers, and they should not be placed indiscriminately.
Case 1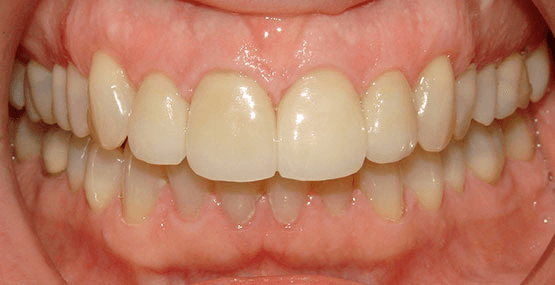 This patient disliked the mismatching crown of her left front tooth as well as the yellowish discolouration of the other front tooth. In addition, she requested that the malalignment be corrected if possible. We decided to place three ceramic veneers and replace the old crown with a new all-ceramic crown to give her four aligned, matching upper front teeth. (e.max ceramic veneers on teeth 12,11, 22 and e.max crown on tooth 21, cemented with phosphoric acid etch, OptiBond FL adhesive, and Kerr's Nexus II veneer resin cement.)
Case 2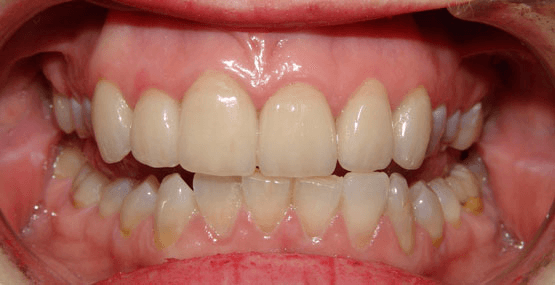 Crowding and surface irregularity of the upper teeth were the chief concerns for this patient. Multiple attempts were made to correct the surface texture of the front teeth, but none was satisfactory. This patient did not want orthodontic treatment (braces), and so the solution presented was to place a porcelain crown on the protruding front tooth and to align the other front teeth with the use of five porcelain veneers.
A root canal was performed on the protruding front tooth as part of the preliminary treatment, as well as home whitening. (Ivoclar e.max porcelain veneers and crown, H3PO4 (aq) etch, 3M Adper Single bond plus adhesive, 3M RelyX Veneer cement. Home whitening done with SDI pola night, and for those who really care, endo was done using microscope to a MAF of 60/0.04. SybronEndo K3 files followed by warm vertical gutta percha obturation. Patient asymptomatic before restorations were done.)
Ready to bring your smile back to glory?
Our Team is Ready to Guide You to Long-Lasting Oral Health