The Gum Disease Known as – Gingivitis
Posted: April 10, 2012
Last Modified: September 21, 2020
Awesomely cheesy 80's Listerine commercials aside, this post begins our foray into gum issues.  Up till now, our blog posts have largely centered on teeth – for instance, issues such as tooth decay, root canals, fillings, and dental crowns.  In a later posting, we will be later exploring more severe gum disease, periodontitis.  For today, the less serious and for the most part completely reversible condition of gingivitis.
Technically speaking, an "-itis" suffix means inflammation of that body part.  So, arthritis would be inflammation of the joint, appendicitis would be inflammation of the appendix, and of course gingivitis is inflammation of the gingiva, or gums.  (No word yet on where tennis player Vitas Gerulaitis was inflamed).  For the purpose of discussion, "gums" will refer more to the superficial covering tissues of the teeth and not the deeper structures of ligament or bone.
Inflammation is a body's natural reaction to tissue irritation or damage.  When the body detects that there is either a foreign body or cellular damage, the reaction is an attempt to clear the area of the irritant.  It is not a disease, just a body's reaction to a problem.  Think sliver:  if a splinter is left under the skin, it will not take long for the area to take on the hallmarks of inflammation: heat,  redness, swelling, pain.
Similarly, irritation in the gums will provoke the same reaction – a telltale redness, usually at the gumline, along with tenderness to touch and a tendency to bleed.  The good news?  As bad as it may look (see some gingivitis photos below), this problem is totally reversible without long-term effects.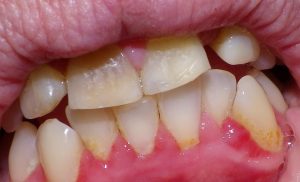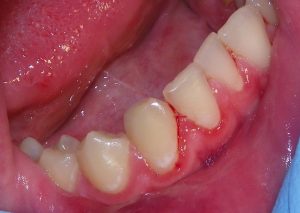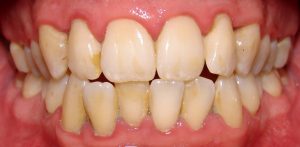 So what would be the causes of gingivitis?  There are several, with plaque being the prime culprit.  Plaque is a sticky film loaded with bacteria that will build up on any part of the tooth that is not cleaned well, and of course it is the bacteria and bacterial products that play a supporting role in the triggering of the inflammation.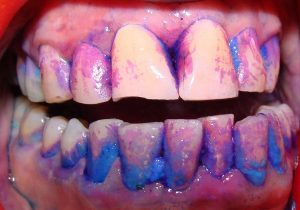 Less common causes would include pregnancy, puberty (fluctuating hormone levels), medications, and mouthbreathing (dryness will tend to make oral tissues redder).  Read the American Academy of Periodontology's gingivitis information page.
No matter the cause, it is always advisable to maintain good oral hygiene.  This will help minimize the buildup of plaque, and allow the gums to recover from the inflamed state.  We have written about quality toothbrushing technique and good flossing habits in previous posts (don't expect any rinse or water-spray device to remove plaque well).  Left untreated for long enough, and there will be a painless transition to chronic inflammation and the longer lasting consequences of periodontitis.
Well, that's all the gross-out we've got planned for you today.  The take-home message?  Gingivitis is a mild early gum inflammation that can be totally reversed if you take the right measures and keep everything clean.  If you've got questions, we've got answers.  For a more detailed evaluation of your oral condition, please contact us and we'll explain some more.  We'd love to be your dentist in Barrie.