Barrie Cosmetic Dentistry: The Aesthetic Diagnosis, or "Give me the Julia Roberts smile"
Posted: November 7, 2013
Last Modified: March 22, 2021
It goes without saying that your teeth are not only for smiling, they are for chewing too. Any Barrie cosmetic dentist should ensure that while making your teeth look better (easy to do), the work that is done will also make your face look better and be sturdy enough to withstand the stresses of eating (harder to do). The following is a summary of the things we need to look at when we make a smile look better, and is the last of our four-part series on oral diagnosis. Earlier, we covered:
The dental diagnosis,
The periodontal diagnosis, and
The functional diagnosis
Now, the aesthetic diagnosis.
Since cosmetic dentistry is more of a subjective and elective type of dentistry, it had better not raise the risk of any other dental problem such as gum inflammation or tooth fracture. For that reason, we will always keep in mind that we want to keep the existing teeth as intact as possible.
(Obligatory picture break)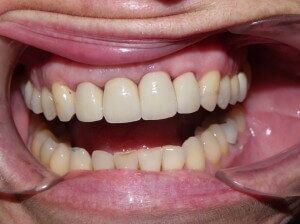 For a summary of the above case of four front tooth crowns, read here.
Claiming to provide cosmetic dentistry services in Barrie means not just looking at the teeth. It has to be understood that the teeth are in harmony with the gums and the face. So, if you think of a smile as a performance, you need it to have a solid stage (face), a good-looking background (gums) in addition to convincing actors (teeth).
When beginning any cosmetic dentistry for our Barrie patients, it is important to get all of your desires up front. This allows us to know what we have to create in order to satisfy you – an endpoint. For this reason we have a cosmetic questionnaire that breaks down the parts for you. Check it out.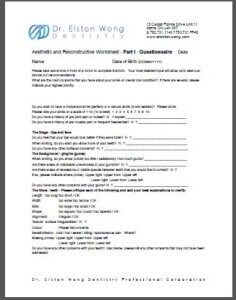 For our part, we first look at the teeth: do the individual teeth have any developmental blemishes such as stains, mottling, or misshapen aspects? Are there colour problems?
Next, we look at the position of the teeth: are they in the right place vertically (do you show too much or not enough tooth), horizontally (are they off-center or tilted) and sagittally (do they stick out too much or are they angled too far forward or back)? This also goes a long way to answering whether a gummy smile is the result of too much gums, or improper skeletal positioning of the teeth.
As the front teeth go, so do the back teeth- we must ensure that the plane of the back teeth is level with the plane of the front teeth.
The lower front teeth also need to be considered: do you show too much of the teeth? Are they level? Is there crowding that you have always wanted to get rid of? Similarly, the lower back teeth also need to be level with the lower front teeth. We have guidelines for all of these measures to ensure they are in harmony with your face.
What about the gums? From a cosmetic dentistry point of view, they need to have the appropriate amount of symmetry and display in order to make a pleasing smile. This means that the gum levels should display the normal amount of scalloping, fill in the space between the teeth so there are no black triangles appearing, and also be at the right symmetrical heights so they do not make recession any more obvious than it needs to be. We can even address overly gummy smiles.
The surrounding facial structures are important as well, as beauty is judged subconsciously by proportions. If the face, or the position of the teeth in the face just don't "look right", then no amount of cosmetic front tooth veneering will ever make it look perfect. For these considerations, we can often look at simple procedures such as Botox or dermal fillers, or more involved orthodontics and/or orthognathic (jaw) surgery.
As you can see, single-tooth cosmetic dentistry often morphs into whole-face aesthetics, and it's not that people are being upsold, it's because the right systematic approach needs to be taken to produce a result that will satisfy the owner of the teeth. We've said before that you are the star, and we are the director. Let us create the smile that you envision.
Contact us if you would like a personalized cosmetic dentistry evaluation! We'd love to be your cosmetic dentist in Barrie.