Direct composite resin buildups for front teeth
Posted: February 26, 2012
Last Modified: December 14, 2018
Here's a case that started off looking pretty simple, but is actually fraught with danger. It speaks to the importance of pre-operative evaluation and preparation, because the cause of the original destruction of tooth must be understood. Before treatment can begin, one must be able to predict the potential complications. In this case, the treatment contemplated was the use of direct composite resin, or white filling.
We've written here about what white fillings can do (incidentally, direct fillings refers to those fillings sculpted directly onto the tooth in question. Indirect restorations refers to those that are fabricated in a dental laboratory and then cemented into place.
We've also written here about a case report of a broken front tooth repaired with direct resin.
Here's the case: a male patient has an aesthetic concern with the two upper front teeth. As the photo below shows, the two front teeth (central incisors) have been worn down shorter than his side teeth (lateral incisors).
What may not be so clear from the photo though, is the inclination of his two front teeth. They are angled back (retroclined) and thereby in the way of the lower front teeth as they close. In fact, they are tipped back enough that over the years, the lower teeth have worn the front teeth to the point that they are now. This is not a case of nighttime grinding alone (bruxism), this is a problem of the bite. A nighttime bite appliance (bite plane) will not help the wear because it is occurring during the day.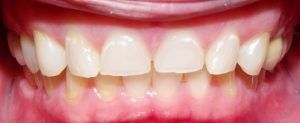 Here's the danger: if one were to build up the worn down teeth at the same angulation as before, that is, "restore" them to the pre-worn state and nothing else, it would be very easy to predict what will happen: the restorations will merely wear or break down back to the same level as before.
What we chose to do instead, was to apply direct white filling material (composite resin) to not only reconstruct the shape of the tooth, but also change the apparent angulation of the tooth. This gets the worn-down edge of the front teeth away from the edge of the lower front teeth, and out of the danger zone. Yes, the teeth will end up thicker than before, but the beauty of the treatment rendered here is that absolutely no tooth material had to be sacrificed to achieve the result. It was arrived at exclusively by adding material to the teeth.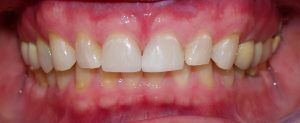 So that's it – the fillings can be left to serve for an indefinite period of time until they discolour, or, if they break down or wear down prematurely, then we will know that the bite is still an issue and orthodontics will be required to correct the position of teeth.
For a personalized assessment of your oral condition, please contact us! We'd love to be your dentist in Barrie.