The Beauty of Modern White Filling Materials
Posted: May 27, 2011
Last Modified: March 22, 2021
Here's a recent case completed in our office: this patient's upper right lateral incisor (the second from the middle) was yellow due to discolouration of an old filling.  Not only was the colour unsatisfactory, but the shine on the surface of the filling had also dulled.  Our goal: improve the appearance of the tooth and blend it in with the adjacent teeth.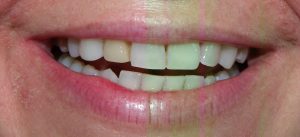 Options: two options were available to us – 1) direct resin veneer to replace the existing one (which would have the advantages of lower cost, quicker placement and overall less invasiveness, but the disadvantages of discolouration over the long term), or 2) porcelain veneer (which would have the advantages of being more stable over the long term in terms of shine and colour, but would cost more, take longer to place, and require some shaving down of tooth material).
We chose to try option 1.  No anesthetic required, less than one hour of working time.  We're quite happy with the results as the colour match was superb, and the translucency mimics the adjacent natural teeth exactly.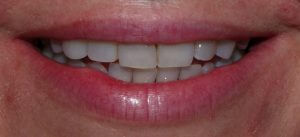 Phosphoric acid etch to clean, OptiBond FL (Kerr) primer and adhesive, EsthetX HD C1 and W-E (for incisal translucency).  Patient says her mom will stop harassing her about that tooth now.
Thanks to Keshia for the assistance, photographing, and bang-on colour selection.