The Truth Behind Water Flossing
Posted: November 26, 2020
Last Modified: May 19, 2022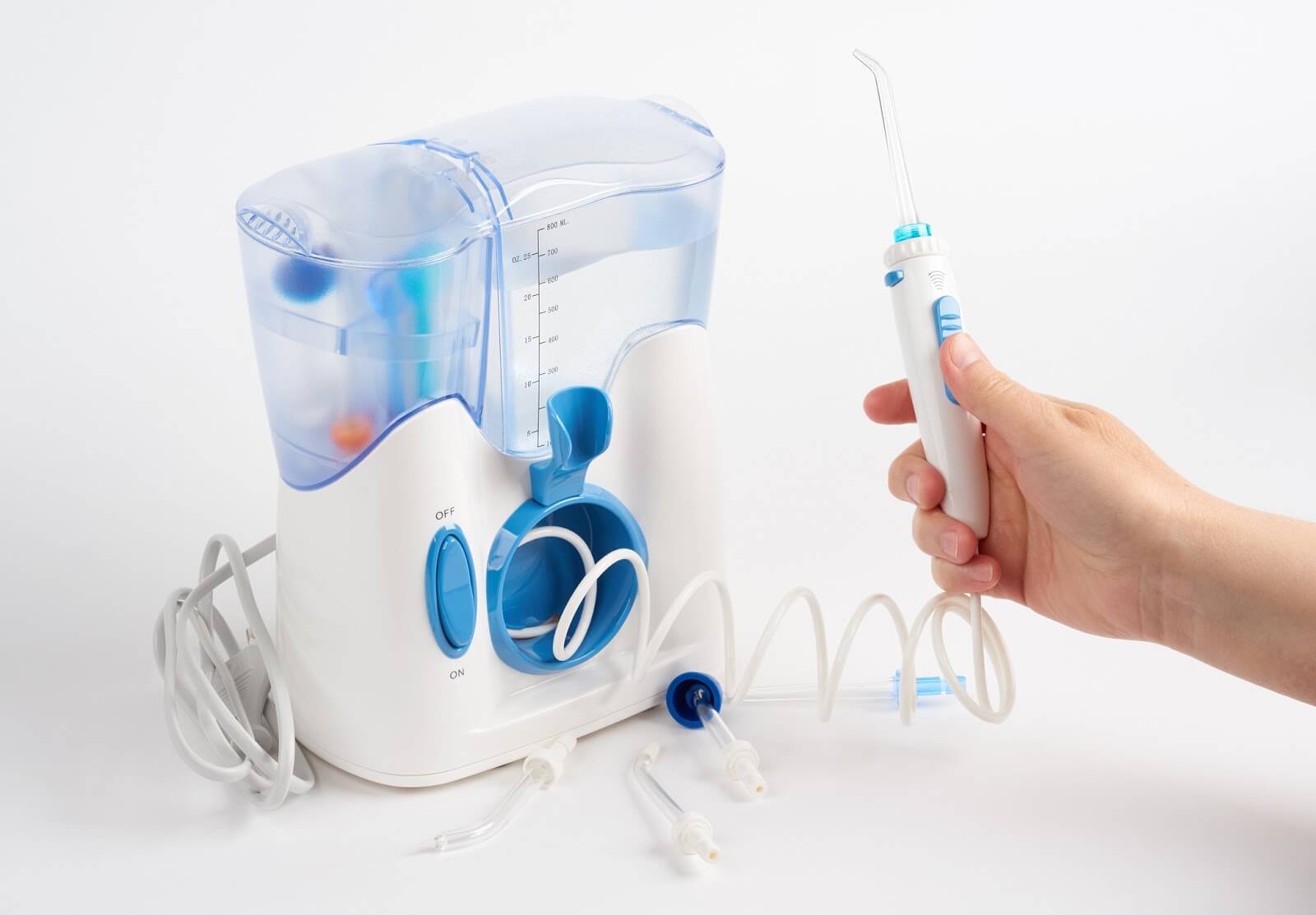 Ever since its first appearance in 1962, the water flosser has been an item with some mystery attached to it. How does it work? Is it worth the investment? Can water be effective at cleaning your teeth as well as floss? Is it a good way to keep your cosmetic dentistry work looking fresh?
Water flossers come in a variety of shapes and styles, and at first glance, it's easy to assume that your tooth-cleaning routine isn't complete without it. Before you shell out your cash, though, it's worth your time to ask your dentist for their input. Read on to discover the truth behind water flossing, how it works, and our take on whether or not it's worth adding to your tooth care routine.
What is a Water Flosser?
A water flosser is a device that shoots a small, concentrated stream of water. It's powered by electricity, so many have a plug that fits into standard wall sockets, but some modern versions have rechargeable batteries. They'll also have an attached water tank, which can be emptied and refilled as necessary. The water stream can frequently be made to pulse, rather than remaining as a steady flow, which aids in the removal of plaque and food debris. They may also have tips that can be switched out to change the angle of the water or the concentration of the flow.
Can a Water Flosser Replace Regular Floss?
Due to the name, one of the most frequent questions people have about the water flosser is whether or not it can replace actual flossing. The short answer is absolutely not, but that's not to say that the water flosser doesn't have its purpose.
A water flosser simply cannot give you the same quality of clean that floss can. It's not designed to. While floss can get in and around your teeth, a water flosser is only as good as the jet of water. Now, the exception to our rule of regular-floss-before-water-floss is if the user in question has braces, dental implants, permanent bridgework, or a condition like arthritis that can make regular flossing impossible. In these circumstances, a water flosser can make it easier to reach pockets or concealed areas in the mouth.
The Water Flosser's Place in Your Routine
Brushing and flossing is the best way to remove plaque from your teeth, so don't abandon your string floss just yet. However, if you have the budget to spare, a water flosser can be a good way to help rinse out your mouth after flossing and keep your breath fresh. There are plenty of people who are fans of the water flosser just because of how clean their teeth feel after using it.
At the end of the day, the water flosser should be an accessory, not an essential, to your oral health care routine. If you're looking to keep your teeth looking clean, fresh, and healthy, your best bet is always a toothbrush, unwaxed floss, and regular checkups with your Barrie dentist.
Keeping Teeth Clean and Healthy
If you're wondering which oral hygiene products to use, your best bet is to ask your cosmetic dentist in Barrie. They'll be able to recommend the latest products that are proven to work, and they'll be able to recommend the items that would benefit you and your unique oral considerations.
If you'd like to learn more about our cosmetic dentistry services, or about our Barrie office, give us a call at (705) 721-1143. You can also contact us online.