Not Your Grandma's Dentures: Your New Options for Missing Teeth
Posted: July 31, 2021
Last Modified: June 6, 2022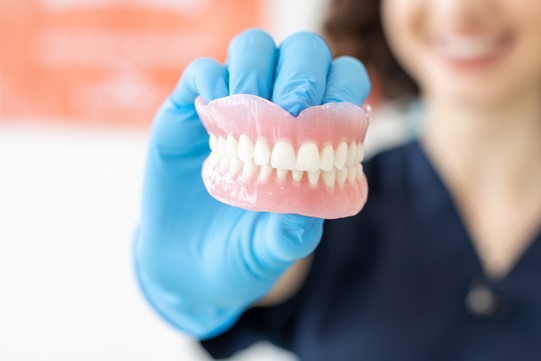 When you lose a tooth, either as a natural result of age or due to an accident, you'll likely want to replace it with a denture to restore your smile and your ability to eat and speak normally. However, as much as you recognize the value of these changes, you likely also have a gut apprehension to the idea of dentures. The word may conjure up ideas of teeth floating in a glass on your grandparent's nightstand, and the idea of putting something that clunky and large into your mouth might seem off-putting.
No matter where you go in the world (or even in Barrie), dental services have come a long way in the past few decades, and that includes the world of dentures. From partial or full dentures to implanted dentures you never have to think about, modern dentures open up a wide new selection of choices for you.
Today, let's dive into the world of dentures and the many varieties they come in.
The Basic Styles of Dentures
The iconic half-circle of dentures that most folks are familiar with are what's known as removable dentures. As the name implies, they can be removed for cleaning or at the end of the day. While still usually composed of acrylic resin, the dentures of today are custom-made using a digital scan of the inside of your mouth.
A set of dentures is custom made to fit your mouth and smile by tailoring their shade, shape, and texture. This means a more precise, comfortable fit, and reduces the need for the heavy, chunky bases of yesteryear.
Dentures do restore the look of your smile and help support the structure of your cheeks and lips, but that's not all they do. By wearing a denture, you are able to grind, crush, and eat food like you used to. For teeth with severely damaged roots or rotted roots, dentures are a viable solution for pain and oral health concerns. The goal of receiving dentures is to replace problem teeth with a strong, attractive alternative.
Removable dentures need to be cleaned every day to prevent the growth of bacteria or injury to the gums, but the good news is, they're very easy to clean. Simply remove and brush them as you would your regular teeth (and you don't even have to worry about flossing – you can use a tablet cleaner instead).
Full Dentures
Full dentures are created when a client has no natural teeth remaining. They can be made for both top and bottom teeth, and can easily be put in or removed.
Partial Dentures
Partial dentures may only replace a few missing teeth, and can be designed to fit in so well with your natural teeth that no one will ever know where the denture begins or ends!
Implanted Dentures
Regardless of whether you're recommended a full or partial denture, you may also have the option to have them held in place via implants. Implants are just one of the many dental services provided by your Barrie dentist, and they're composed of a small titanium screw that is embedded in your jawbone, just beneath the gum.
Once the dental implant is in place, it functions in the same way that the root of a tooth would to help hold your denture in place. You can either have the denture permanently affixed to the implant, or you can simply snap it on and off at night, eliminating the need for any fixture adhesive.
Dentures and Other Dental Services in Barrie
A healthy and bright smile is one of the first things people notice about you; we'll help you take care of it. The Barrie dental office of Dr. Elston Wong makes every effort to provide reliable and pain-free dental care to every patient. From new dentures to a strong, sturdy dental implant, we'll work with you to assess the best option achieving your dental goals.
If you'd like to learn more about our dental services in Barrie, give us a call at (705) 721-1143 or get in touch with us online.