Barrie dentist – orthodontics, or "We'll straighten you out!"
Posted: January 26, 2014
Last Modified: December 21, 2020
First off, crooked teeth are not a disease, so in answer to the question: "Do I or my child need braces?", the strict answer is "No". But perhaps the question should be phrased differently – after all, technically, people don't "need" all their front teeth. In this day and age, people do not need teeth at all!
A better question would be: Would I or my child benefit from braces? And the answer to that, would be: Possibly
Appearances are important, whether it is in seeking employment, or just plain old self confidence. If you have crooked teeth that are stopping you from smiling, you are not alone! Orthodontics may be the solution for you. A completed orthodontic case from our Barrie dental office follows, along with pictures.
Age at start of treatment: 20 years 5 months
Age at completion of treatment: 22 years 11 months
Total orthodontic treatment time: 2 years 4 months
Pre-orthodontic condition
This patient wanted correction of the alignment of the upper front teeth. In addition, she disliked the large distance between her upper and lower front teeth. Commonly referred to as overbite, it is technically the overjet that she found excessive. Upon oral and radiographic examination, we found that she had an overjet of 4 mm, an overbite of 55%, and a Class II division 2 skeletal malocclusion. She did not report any TMJ (jaw joint) problems and her mouth was free of dental problems or gum disease. Furthermore, her oral hygiene was good. Her photos, cephalometric, and panoramic radiographs are below: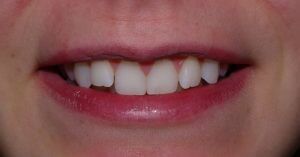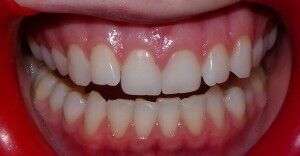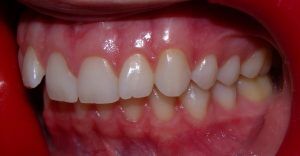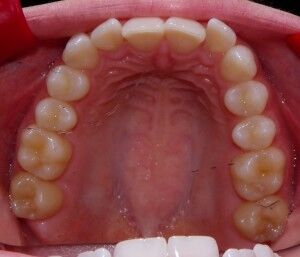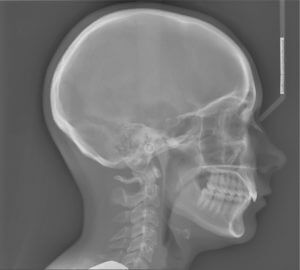 (The above lateral head x-ray was done for us by Huronia Maxillofacial Radiology. Check them out for all your Huronian Maxillofacian Radiology needs! Great service with friendly staff! We've had only good experiences with them, with two convenient locations! Seriously, they take a mean CBCT too.)
Our orthodontic treatment plan involved the removal of the two upper first premolars (teeth 14 and 24, or teeth 5 and 12 for the Americans) and some slenderizing of the lower front teeth. Following that, upper and lower braces were placed. Brackets and wires were from Ormco. The upper transpalatal arch was placed to preserve as much anchorage as possible (i.e.: to prevent the back teeth from slipping forward). Once the upper and lower arches were aligned, the patient wore interarch elastics to correct the distance between upper and lower teeth.
Here are some in-progress photos with the appliances in the mouth: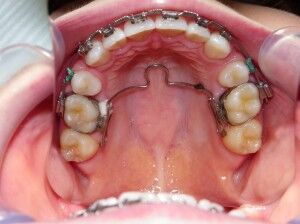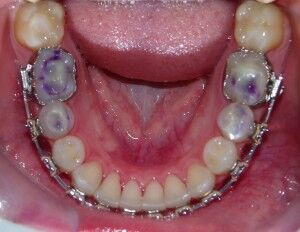 Post orthodontic results
And finally, here are the photos of the completed case!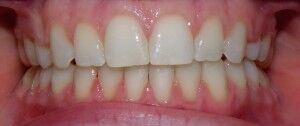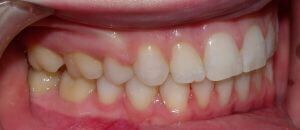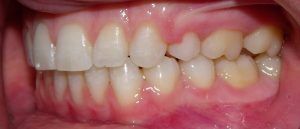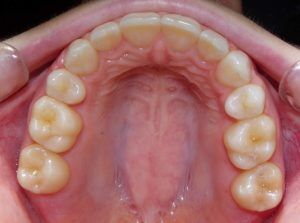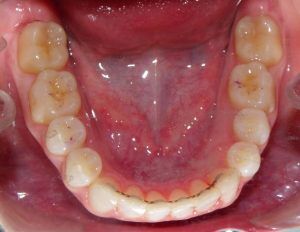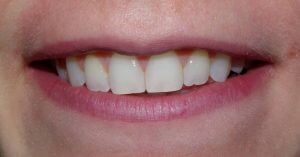 That's it! We are quite proud of this result, hence the posting here. If you are interested in some orthodontics, please note that we are a general dental office in Barrie that does some orthodontics; we are not an orthodontic specialty office. For a complete assessment of your oral condition, please contact us! We'd love to be your dentist in Barrie.