Barrie Dentist: Invisalign, or "Do you even care about the results?"
Posted: July 6, 2014
Last Modified: June 6, 2022
By now, most people will have at least heard of Invisalign.  Even if you don't need orthodontics, you know that Invisalign is a method of aligning (duh) teeth via a series of clear plastic trays ("aligners"), each one slightly different from the last, that pushes the teeth toward their final, "straight" position.  This post addresses what we think of Invisalign, and hopefully will change your perspective as well.  The bottom line?  Invisalign is a tool just like any other tool in orthodontics, and instead of demanding it as a treatment, people should ask themselves what they really want as their goal.  Using Invisalign does not guarantee great results, just like using a special tennis racquet does not make anyone a great tennis player.
Invisalign is not for every orthodontic problem, despite what the marketing seems to be saying (click on photo to expand).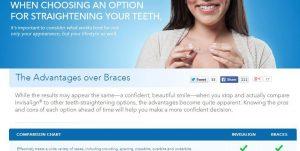 Asking for Invisalign to get straight teeth is like demanding that a surgeon use a certain brand of scalpel – do you really care what brand of scalpel is used, as long as it is the best way to get the job done?  And if a surgeon tells you that only that brand of scalpel is used, wouldn't you just think "Well, that's fine as long as it is the best scalpel for the job"?  Enter the ridiculousness that is direct-to-patient marketing.  Align Technology Inc (USA Headquarters 2560  Orchard Parkway, San Jose California 95131, ALGN on the NASDAQ) has profit as its ultimate goal, and by advertising directly to the public, it is trying to circumvent the question that any dentist trying to solve any orthodontic problem needs to ask: what is the best way to get these teeth straight?  In our opinion, that is clouding the discussion and will not always lead to the best treatment results.
This is not to say that Invisalign (or any clear aligner system) cannot get good results.  There are plenty of situations for which Invisalign is a great mode of treatment, and for the cases that are suitable to be treated with Invisalign, it is certainly going to get the teeth straight.  However, not all cases are Invisalign-suitable in all practitioner hands, and for those cases that should not be treated by Invisalign, demanding Invisalign is going to lead to unsatisfactory results.  It's like saying "I have a hammer!"  Well, that's great if you have a nail in need of being driven into a piece of wood.  But if you are trying to place a screw into wood, then maybe that hammer isn't your best choice.  Maybe you shouldn't insist that your carpenter use a hammer for that job either.  As we've written in the past, it is the operator, not the equipment that is going to lead to the best results.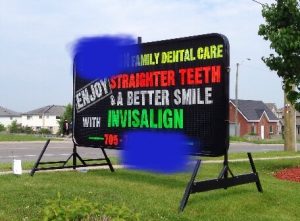 To be sure, there are definite advantages to Invisalign.  It really is quite hard to tell if someone is wearing them, and eating / flossing are easier, because you can just take the aligners out of the mouth!  For situations where one has some mild spacing between teeth that needs to be closed, those aligners are excellent.  But there are also disadvantages: many tooth movements are more difficult than using braces, and can take longer to achieve.  Also, when drinking anything that is not plain water, one needs to remove the aligners while drinking and at the very least rinse with water afterwards or else the liquid will sit inside the aligner and potentially cause decay between the teeth.
Summing up: In our orthodontic toolbox, we have braces, we have removable retainer-like appliances, we have headgear, we have expanders, and we also have aligners.  The key is selecting the right tool for the job – sometimes that tool is an aligner, sometimes the right tool is braces, and sometimes that tool is a piece of paper referring someone to an orthodontist.
If you have questions about orthodontics or require a customized evaluation for your mouth, please contact us!  We'd love to be your dentist in Barrie.