In this section, we're going to give you a different take on the typical generic pictures-only gallery.  Not only will you see photos, but each of the examples presented will also have background information as well as detail that (probably) only dentists would want.  Yes, it's our way of showing off our work.
Each of these cases is an actual patient treated in our office, but the solutions presented here do not fit every person.  We customize every treatment to the patient so that time, budget, and expectations are satisfied.  And yes, all of the patients have given their consent to be shown here.
Please also visit our Facebook page, where we will have other cases posted up and updated.  If we're particularly proud of work we've done for you, we will post it as well!
Restorations (simple fillings/bonding)
Case 1

In this case, the two teeth treated looked totally normal from the exterior.  On routine x-rays, we detected decay between the teeth.  The first photo shows the decay after we started working on the tooth.  The decay was completely removed, and white fillings were placed in both teeth.  The anatomy of the fillings was sculpted to blend into the natural tooth material and adjusted to fit the bite on the opposing teeth.  (H3PO4(aq) etch,  Kerr Optibond FL primer and adhesive, 3M Filtek Flow Supreme flowable A2 at margin, Dentsply Esthet-X A2 resin for body.)
Case 2

The main issue here was not decay or fracture, it was the appearance of the upper canine teeth (upper eye teeth – third ones from the middle).  In the first photo, their horn-like appearance is quite obvious.  Instead of shaving away any tooth material, conservatively bonding resin material to the teeth eliminated the undesirable appearance.  What's nice about newer white filling materials is their chameleon-like abilities to pick up colour from the teeth.  (H3PO4(aq) etch, Kerr Optibond FL adhesive only, Dentsply Esthet-X A2 resin.  Microabrasion was done later to address the upper incisor dysmineralization)
Microabrasion

The brown discolouration on this patient's upper right front tooth was problematic, and instead of placing a filling or veneer, microabrasion was recommended.  This is a very conservative technique that employs the use of a specific paste to remove surface imperfections and allows the enamel surface of the teeth to re-form without discolouration.  Microabrasion works best on the worst stains – the dark brown kind.  Not only are the results instant, the appearance actually improves over time as the enamel rebuilds.  In the above example, the second photo was taken immediately after the treatment.  No anesthetic is required for this procedure.  See "Crowns" below to see what we did to the upper left front tooth! (Hint: we did a crown)  (Ultradent Opalustre microabrasion paste)
Veneers

Crowding and surface irregularity of the upper teeth were the chief concerns for this patient.  Multiple attempts were made to correct the surface texture of the front teeth, but none was satisfactory.  This patient did not want orthodontic treatment (braces), and so the solution presented was to place a porcelain crown on the protruding front tooth and to align the other front teeth with the use of five porcelain veneers.  A root canal was performed on the protruding front tooth as part of the preliminary treatment, as well as home whitening.  (Ivoclar e.max porcelain veneers and crown, H3PO4 (aq) etch, 3M Adper Single bond plus adhesive, 3M RelyX Veneer cement.  Home whitening done with SDI pola night, and for those who really care, endo was done using microscope to a MAF of 60/0.04.  SybronEndo K3 files followed by warm vertical gutta percha obturation.  Patient asymptomatic before restorations were done.)
Endodontics (Root canals)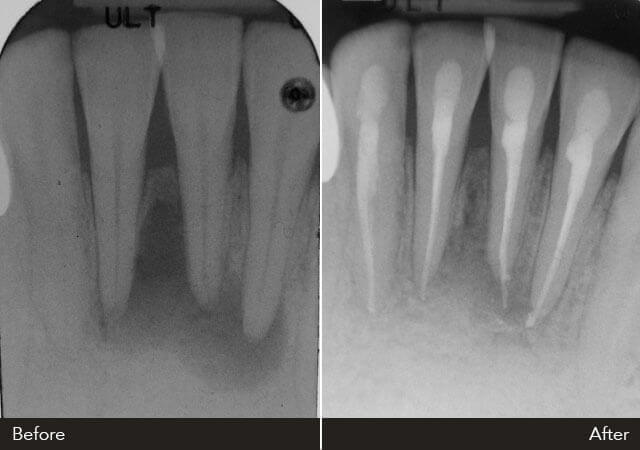 This patient had suffered a blow to his lower front teeth that did not result in the fracture of any teeth, but it was severe enough to have caused all four front teeth to die and become infected.  On initial presentation to our office, he had mild pain, as well as some notable loosening in all four front teeth.  The first image is the xray showing the large area of bone destruction at the tips of each of the tooth roots (the large black area).  Root canal treatment was initiated and bony healing was confirmed before completion.   The bone regrowth is evidence that root canal treatment was successful.  (Endo done using microscope, PulpDent Multi-Cal Ca(OH)2 paste for three months, warmed gutta percha obturation on all four teeth.  Yes, there is overextension, but look at the healing!)
Crowns

Chipping of this patient's left front tooth was repaired with direct bonding of white filling material, but the chip was large and the colour match was just not perfect.  An all-ceramic crown was placed for a better match and better longevity.  Crowning of teeth is commonly done not just to improve appearance, but to protect compromised teeth from future fractures.  Crowns are available in a variety of materials, each selected to best suit the individual situation.  In this case, an all-ceramic crown was done because it was a front tooth requiring the best aesthetics, but in a case where a backmost tooth needs to be crowned on a person with a heavy bite, we would certainly have chosen a different material. (Ivoclar e.max all-ceramic crown cemented with 3M Adper Single Bond and RelyX veneer cement translucent shade.)
Dentures

Years of absence from routine care finally led to the state of teeth seen in the first photo.  There was generalized severe gum disease and tooth decay, and no reasonable long-term treatment except for removal of all of the teeth.  Dentures were made first, and then inserted on the same day that the teeth were extracted.  Sedation with nitrous oxide and an oral sedative was used in addition to local anaesthesia to provide a more pleasant experience for this patient.  While the second photograph shows the conventional dentures that were constructed, this patient will go on to have implants placed to stabilize the lower denture.  (N2O:O2 with triazolam sedation and proper monitoring throughout).
Full mouth rehabilitation
Case 1

This patient had been functioning for years with multiple missing teeth, and the remaining teeth were heavily filled or broken and worn.  There was also a significant amount of drifting of teeth over the years, as extracted teeth were not replaced.  The technical challenge was to provide this patient with a new biting position that could be tolerated, and then to restore the bite to that position.  To that end, an acrylic orthotic was fabricated and worn for six months before any permanent work on the teeth was performed.  This allowed us to be certain that the new jaw position would be comfortable.  The final result required a combination of crowns on all teeth, three dental implants, and a bridge where implants were not feasible.  In cases like this, there needs to be thorough consultation to ensure that expectations are met; before any of this work was done, a wax simulation was generated to provide a preview of the final result.  By doing things in this manner, surprises at the end are minimized.  (17 PFM crowns, 4 full gold crowns for backmost molars, three Nobel Biocare Replace Select RP implants with PFM crowns, and one PFM 3-unit bridge.   All were cemented with 3M RelyX luting cement).
Case 2

These photos show a case in mid-progress.  As in the above case, this patient had suffered a collapse of the bite due to wear, fillings, and bite adjustments.  An overall plan was required, and since an opening of the bite was required, an orthotic was made to simulate the new chewing position.  Once this was confirmed as comfortable, a wax simulation was again created to show the expected final result.  At this point, the patient has had crowns on all viable remaining teeth and awaits implant replacement of the missing teeth.  The ceramic was selected to be a whiter shade than the original.  (Shade  Vita 3D 1M1, 14 Ivoclar e.max crowns, 6 PFM crowns.   Teeth 36 and 37 extracted due to nonrestorable caries.  Treatment plan calls for 34 and 36 implants to help support a tooth-and implant-supported PLD as lower right ridge insufficient to place implants and hip grafting refused.  PFM's on 43 and 44 splinted together with ERA attachment extending distally to avoid any show of denture clasps.)
Case 3



This patient had been wearing a complete upper denture from a young age, and had also lost many lower teeth.  He was having difficulty chewing due to a combination of denture loosening as well as missing teeth, and decided that he would like a complete set of teeth that did not need to be removed from the mouth for cleaning.  On the upper jaw, bone atrophy over the years required significant bone grafting.  Ultimately, a complete arch of teeth was placed, anchored in the mouth by six implants.  On the lower jaw, drifting of teeth required preliminary orthodontic treatment (fixed braces) to optimize tooth positions and close spaces.  Following that, implants were placed on both sides to replace the missing teeth.  The collapse of his bite has been corrected and the patient can now eat and smile without fear of a denture coming out.  (Maxilla: bone grafting was done bilaterally from bone harvested from the patient's hip.  Six Nobel Biocare Replace implants were placed (four 4.3mm, two 5.0mm) and a fixed upper denture supported by a NobelBiocare Titanium CAD/CAM-milled framework was used as the final prosthesis.  Mandible: Fixed orthodontic treatment to close anterior spacing as well as upright premolars.  Tooth 45 was left rotated due to significant preexisting rotation.  Large natural space between 45 and 44.  Bilateral nerve lateralization surgery in the premolar areas followed by placement of one 4.3mm NobelReplace implant per side. Oral surgery courtesy of Dr. Cameron Clokie, Profiles Oral Surgery, Toronto.  Orthodontics and prosthetics by Dr. Elston Wong.)
Dr. Elston Wong is Ready to Guide You To Long-Lasting Oral Health